As one of the most affluent areas in Los Angeles, Beverly Hills receives a lot of attention. Whether it be shopping at high-end stores along the famed Rodeo Drive or soaking in the California sunshine, you can't go wrong when you're in Beverly Hills. All of the money coming into the locale has allowed space for some of Los Angeles' best restaurants to be born and nurtured into the cuisine hotspots they are today. This guide will lead you to the doors of the most delicious of eateries in Beverly Hills; just follow your appetite to the one which makes your mouth water!
North Canon Drive is home to a number of upscale restaurants, and you truly can't go wrong with any selection. Just choose which cuisine sounds the most appetizing and make your reservation. If you find yourself in the mood for a mouthwatering steak cooked to perfection, look no further than Mastro's Steakhouse. Walk into the plush supper club atmosphere and make yourself at home amongst the dark wood and dimmed lighting. You and your party will savor the intimate setting without being put to sleep. The dining room is high-energy, aided by the live entertainment which performs seven days a week.

This chophouse serves fresh seafood, meats, and vegetables on each dish on the carefully curated menu. Sushis, soups, and fish accompany the wide steak selection. Order the wagyu tomahawk chops or go for the best of the best on the menu and opt for the A5 kobe beef made from 100% Tajima cattle. While you're dining on your dish, sip on one of the hand-crafted cocktails or a selection from the award-winning wine list. Your entire experience has been planned with the utmost commitment to excellence. From the food to the waitstaff, you won't be disappointed when you dine at Mastro's.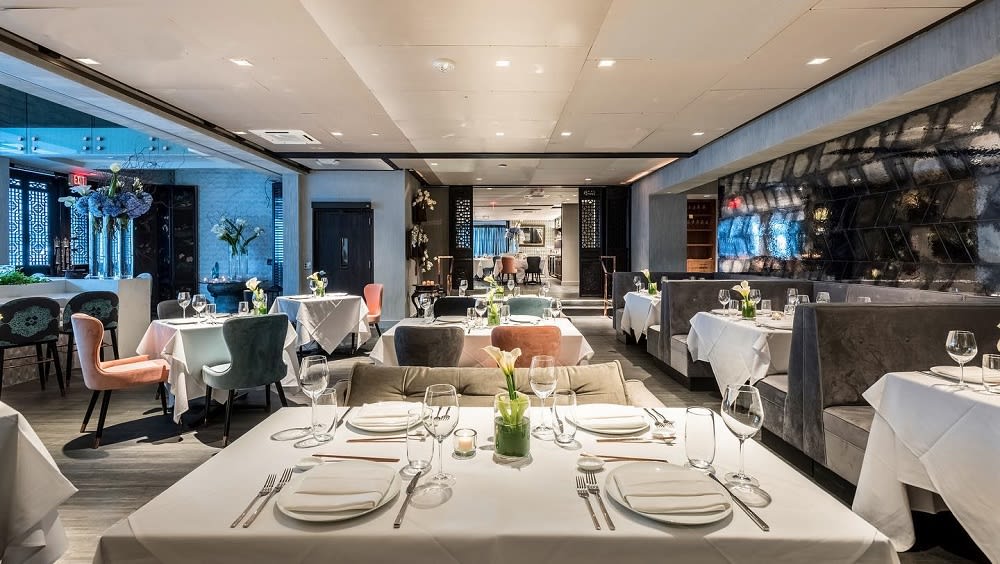 Craving modern Vietnamese cuisine? Make sure you're dressed business professional and find a seat at Crustacean Beverly Hills. At this time their dining room is occupied by reservation only, so don't forget to plan ahead of time for this treat! Established in 1997, Crustacean is one of multiple restaurants owned by the House of An. Chef Helene An has made a name for herself for her "Secret Kitchen" selections and An's Famous Garlic Noodles. Dine indoors or outdoors on the patio and enjoy sashimi, large plates, "from the Secret Kitchen" favorites such as An's famous garlic-roasted Dungeness crab, noodles, rice, or veggie dishes, and desserts. You won't want to head home right away after you've devoured a quality meal. Instead, order one of the after-dinner cocktails, artisanal teas, or gourmet coffees and share a late evening conversation with good company. Crustacean can be found on North Bedford Drive and visited from Tuesday through Sunday.
You may not think of authentic Greek fare when you imagine eating in Beverly Hills, but you'll find it at the popular locale AVRA Beverly Hills. More than just food, AVRA hired the architecture and design firm Rockwell Group to transform the 11,000 square-foot space into the perfect imitation of an open-air villa. Complete with large windows, stonewashed walls, imported limestone, and fresh lemon trees, the dining room at AVRA places you on a Grecian getaway.

Expect to find a plethora of fresh fish, whether in the form of sashimi, items on the raw bar, or the best way, by the pound. The whole fish are flown in daily from all over the world and then charcoal grilled with olive oil, lemon, sea salt, saffron, and mustard. Don't worry about picking bones out of your meal either. Your fish is served deboned and ready for your dining pleasure. Don't forget to order drinks and desserts, including favorites such as the baklava, olive oil cake with lemon chantilly, and housemade sorbet.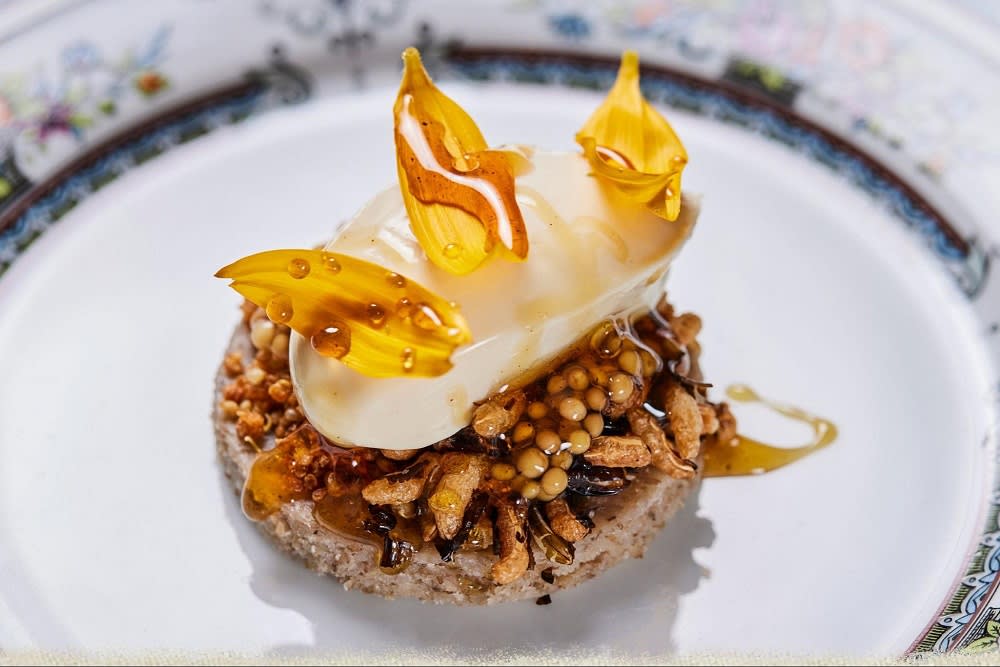 The doors to Maude opened in 2014, and ever since then, Chef Curtis Stone and his Chef de Cuisine Osiel Gastelum have created an atmosphere that has been completely planned. The 24 seats in the dining room are within view of the open kitchen. At one time, the menu was planned out and re-released each month, however, there is now no regular menu at all. The nine-course menu is presented in the same way Chef Stone would serve friends and family inside his home. The surprise of each course is matched with your choice of drink pairing, either Classic or Reserve. Sit and relish the ambiance in the intimate setting which is both comfortable and luxurious, the perfect environment for truly savoring each bite.

Today, the New American restaurant serves a menu that caters to the seasonality of California produce. The kitchen staff handles every ingredient with the utmost care, blending old and modern techniques to achieve the desired flavors from the ingredients. You won't want to miss the final courses, all served in the Wine Loft. More than 3,000 bottles of vintage wines, a piano, and a stack of vinyl records await your perusal in the loft, allowing guests the opportunity to customize their experience.
Fresh pasta fans have enjoyed the food coming out of Il Pastaio for more than 25 years, in turn launching the cozy Italian restaurant into popularity. The name itself means "Pasta Maker," which serves as a nod to an ingredient that is found abundantly on the menu. Owner Giacomino Drago serves pastas that feature seasonally fresh ingredients and honor his Italian heritage. Drago grew up the youngest of 8 siblings in the small Sicilian town of Galati Mamertino, where the main economy is structured around the region's agricultural offerings, including grapes, olives, chestnuts, and hazelnuts. When Il Pastaio opened on N. Canon Drive, he made an effort to bring his experiences and knowledge and infuse it into every facet of the restaurant.

Whether you have your meal in the dining room or out on the patio, you won't leave disappointed.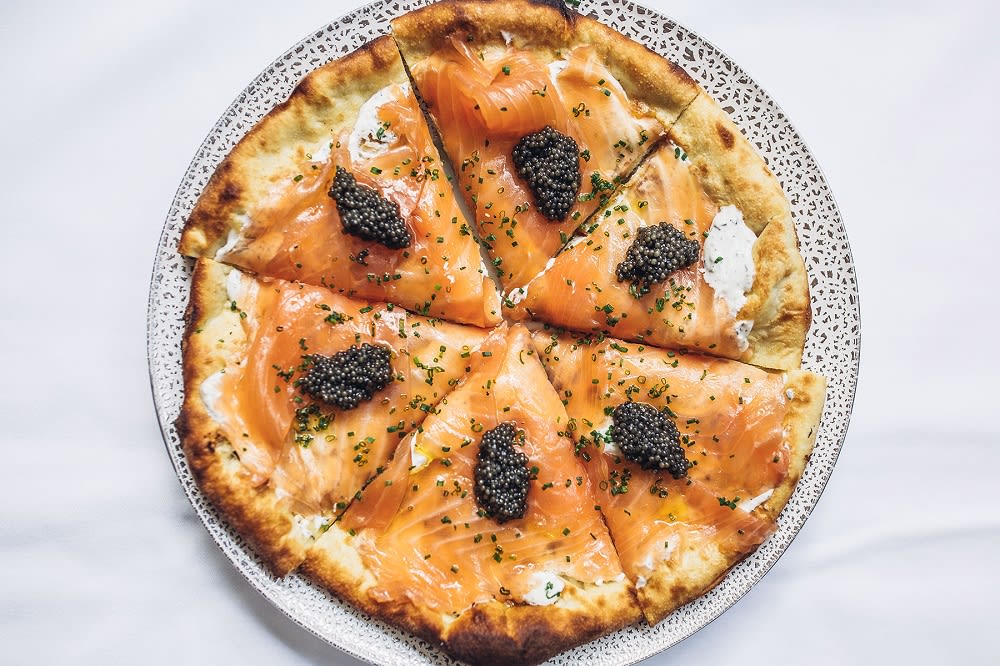 Beverly Hills is no stranger to celebrity chefs. In fact, there are multiple you can visit, but none as familiar as the American restaurant Spago. Owned by celebrity chef Wolfgang Puck, Spago serves guests food prepared from market-fresh ingredients, with the freshest pickings often showcased as the star of a dish, such as the pizza made with shaved French black truffles or the strudel made from crisp Fair Hill Farm apples. The dining room has been designed with a simplistic elegance. The food is always the main event, never overshadowed by decor.

Whatever you order from the spectacular menu, your food is paired with excellent service which will meet and exceed all of your expectations. The Wolfgang Puck Fine Dining Group's restaurant has been located on Canon Drive since it opened in 1997. More recently, however, Spago has been recognized as Grand Award Winner by Wine Spectator magazine. The award is the top the magazine can award to a restaurant and Spago has received the honor since 2010. In order to be considered, Spago had to log a wine list of over 1,000 wines in their selection, with top quality regions, vintages, and significant harmony with the food menu.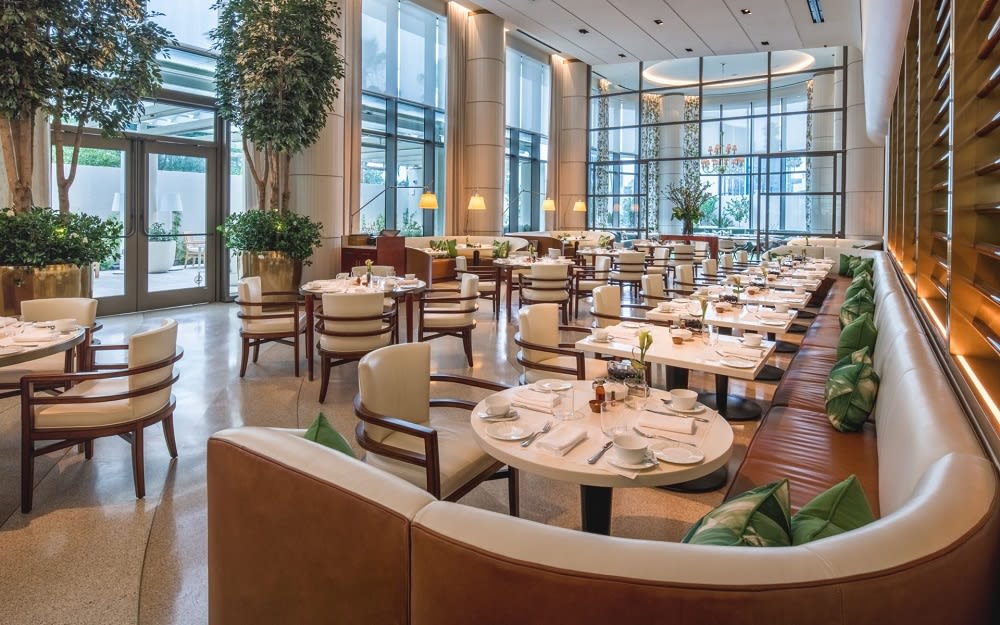 Inside the Waldorf Astoria in Beverly Hills is the gem of French cuisine, Jean Georges. The restaurant is the work of famous chef, author, and businessman Jean-Georges Vongerichton. His humble roots in France were just the start of his culinary career before he honed his skills around the world and made many television appearances including The Today Show and Good Morning America.

Today, the restaurateur owns more than 40 restaurants worldwide, and Wilshire Boulevard is the closest taste you can get. The six-course tasting menu features seasonal ingredients which will delight your taste buds. Current offerings include butternut squash soup, wagyu beef tenderloin with glazed carrots, and a molten chocolate lava cake. Have your meal either indoors or be seated outdoors on the open-air terrace; each will make the ideal setting for savoring every bite of your food. Fluffy pancakes are served on the breakfast menu Monday through Sunday, while savory entrees are served for dinner Tuesday through Saturday.
Are you looking to buy a home in Beverly Hills?
From Beverly Hills mansions with sprawling lawns to luxury condos, this Los Angeles neighborhood has a diverse selection of properties to choose from. Whatever type of home you're looking for, you're sure to find it here. Living in a piece of Beverly Hills luxury real estate has more perks than being in close proximity to all of your favorite restaurants, but you won't know until you own some property! Real estate agent Yar Meshkaty can help you find the luxury home of your dreams in Beverly Hills, Bel Air, and Westwood.
Reach out to his team today
and discuss all of the options available to you in this affluent neighborhood.